Where and when?
HarmUni 2 (and the 20th Unicon, ConteXXt) was held at the University of Gloucestershire in Cheltenham Spa, from August 9 to 11, 2002.
At the moment we don't know whether there will be a HarmUni 3. Mich, Jessica, and Albert volunteered to take it on if there's a convention for it to run with. UniCon has a provisional booking for the same place next year. However, so far, nobody has volunteered to form a committee for UniCon...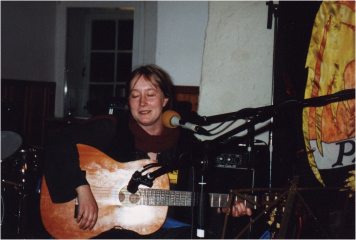 Thanks to Kirstin for this photo of Alexa.
Who?
The HarmUni 2 guest of honour was Alexa Klettner (her surname was Damm before she married).
The ConteXXt guests were Keith Brooke and Ben Jeapes.
The HarmUni 2 committee consisted of Mike Richards (who was mug enough to live in Cheltenham), Joe, Anna and Emily Raftery (who volunteered), and Rick Hewett (who didn't run away fast enough).
Thanks
We are grateful to Didgeridouze for financial assistance with HarmUni's guest of honour.