Guests of Honour
The ConteXXt guests were Keith Brooke and Ben Jeapes.
The HarmUni 2 guest of honour was Alexa Klettner.
Alexa Klettner
For her 12th birthday Alexa got a guitar. She started with campfire music, attending several youth groups until she became the experienced player and singer she is today. In 1997 she became infected with Filk, since then she has belonged to the hard core of German Filk society and is notorious for macabre songs about killing people. Furthermore, she is still writing verses for the longest Filk song ever: Heisser Sand (Hot Sand), originally a 70s softpop song, featuring everything with sand in it (e.g. Star Gate, Bay Watch, The Mummy I+II, Star Wars).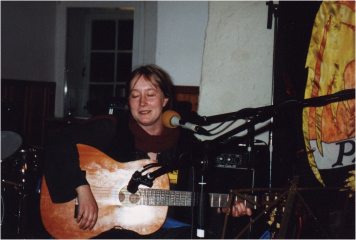 Thanks to Kirstin for this photo of Alexa.
In 2001 she married Soenke, and in February 2002 she became a Doctor of Biology, having written about "neuroprotective mechanisms of the immunophilin-ligand FK506". This will soon be filked. She works as a scientific post-doc at Kiel University, and dreams of breeding a super race of giant insects at some time in the future. Until then she looks after two pet rats, which are steadily becoming fatter and fatter.
She is a synaesthetic, meaning that she perceives numbers in colour. Her favourite number is the blue 15.
Her interests are ancient Egypt and the Medieval Ages: she is learning how to read and write hieroglyphs and collects swords, knives and bows. She bakes her own bread and is a meticulous cook. Be careful: she also does Asian defence techniques, and sometimes kicks people in the night who didn't snore at all!
Furthermore she likes the TV-shows Star Gate, Star Trek, Buffy, Angel, X-Files, Captain Future, ER, Grostadtrevier and Schleswigholsteinmagazin (don't ask), and reading Harry Potter.
Alexa is a talented musician and a good performer; we are proud to have her as our guest at HarmUni.
by Christine Hintermeyer
Thanks
We are grateful to Didgeridouze for financial assistance with HarmUni's guest of honour.